How to pay via PayPal or with your Credit Card
Follow this procedure only if your order wasn't placed through www.pixlemon.com (for example, for orders on the phone).
Fill in the following form. When you click on "Pay now", you will be re-directed to a PayPal page, where you can proceed with a secure transaction using either your PayPal account or your Credit Card.
More information on how to use PayPal: at the bottom of this page.


More information
When you click on "Pay now" you will be redirected to Pixlemon's PayPal page. Here you can pay with your Credit Card by filling out the form on the left side of the page. Or you can use your PayPal account, in which case you will need to fill out the form on the right of the page. Here is an example of the form in Italian. When you select your country, you will be directed to a form in your language.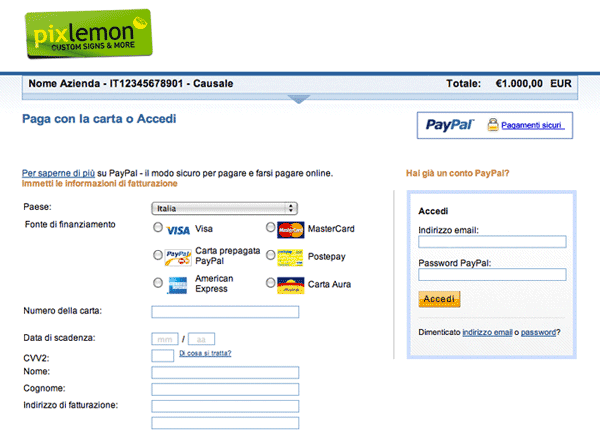 How to create a PayPal account
Creating a PayPal account is easy and free.
Procedure: click here.
More information on PayPal
For more information on PayPal, click here.